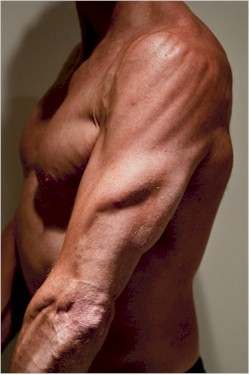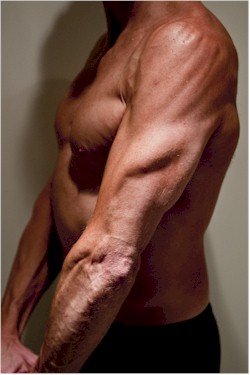 Many people think the way to build those impressive shoulders is to just do more shoulder exercises. This does not work. I don't do a lot of shoulder exercises. The exercises that I do, however, really count.
This may surprise you, but the core of my shoulder program is the front squat. I do several sets of these, twice a month (I can't handle a higher frequency, because these are brutal). When I see people cranking out 3 sets of 8 - 12 reps, I know those people are not working intensely. You simply cannot go 8 - 12 reps if you are making your reps count. So I might do a sets of 6, 4, 4, and 3 before reducing the weight. Next sets might be 5, 3, and 3.
Squats greatly boost your testosterone, which is what tells your body to build muscle. Don't boost your T, and you won't build muscle. It's really that simple.
On shoulder day (I work back/biceps, chest/triceps, and shoulders on different days). I usually do this routine:
Overhead press. Never, ever do this behind the neck. Use a weight that's comfortable for you and focus on moving it slowly. Very slowly. 10 seconds up, 15 seconds down. Really. Go even slower, if you can.

Arnold had a variation on this movement, in which he added a twist. That does improve the workout, but only if you understand how to do it. When doing the twist, you keep the shoulder under tension. During this lift, and the lowering, you should feel every inch of your shoulders. If you don't get a burn by the third rep, you are doing something wrong.

Modified front dumbbell raises. The modification is I don't hold them straight out in front. That's not a natural movement.

Side lateral raises. To get maximum benefit from this, squeeze just a little at the top. Most people swing the weights up and down, making their "workout" a complete waste of time. What you want to do is feel that muscle struggle to move the weight up and then burn as you let it down.

Bentover deltoid raises. This is much like a rowing motion. Hold the weight with your thumbs pointing down and your elbows up. Start with something very light, on the order of 5 lbs.
What about diet? We have other articles on eating right, and it may help you to read one a day until you master the subject. There is no reason for any man to have double digit body fat. Period. the high body fat levels in this country are why we have the high cancer rates. Body fat control is largely a matter of reducing your portions to the size that's right for you. You also need to eat nutrient-dense, calorie-light foods. Eat six small meals per day.